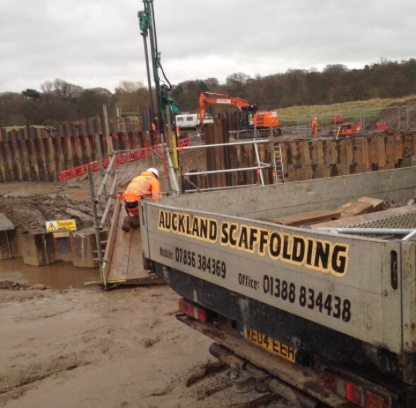 Auckland Scaffolding LTD | Scaffolding County Durham
Hi and welcome to the Auckland Scaffolding LTD website. My name is Darren Quinn and I just wanted to let you know if there is anything I can help you with, I will be more than happy to arrange a friendly, no obligation chat to discuss any potential ideas or questions. 
Auckland Scaffolding LTD offers a specialist scaffolding service covering all types of domestic and commercial jobs, nothing is too big or small. The Auckland Scaffolding LTD team boast many years of experience and expertise and as a result, we will always provide you with the most affordable, personalised solution.
We are well known throughout the local area and can provide scaffolding in county Durham and surrounding areas. Not only do we take our quality of work seriously, but our focus on customer service is second to none. We provide one on one scaffolding services that are always tailored exactly around your requirements and specifications. 
If you are looking for scaffolding in county Durham and surrounding areas and would like a free quote or to have a friendly, no obligation chat to discuss any ideas, please do not hesitate to get in touch with us by clicking here.
IF YOU ARE LOOKING FOR SCAFFOLDING COUNTY DURHAM AND THE SURROUNDING AREAS AND WOULD LIKE TO REQUEST A FREE QUOTE OR HAVE AN INTEREST IN ANY OF OUR SCAFFOLDING SERVICES, THEN PLEASE DO NOT HESITATE TO CONTACT AUCKLAND SCAFFOLDING LTD BY CLICKING HERE OR CALLING US DIRECTLY ON: 07856 384369. FOR CUSTOMER REVIEWS PLEASE VISIT OUR FACEBOOK PAGE.